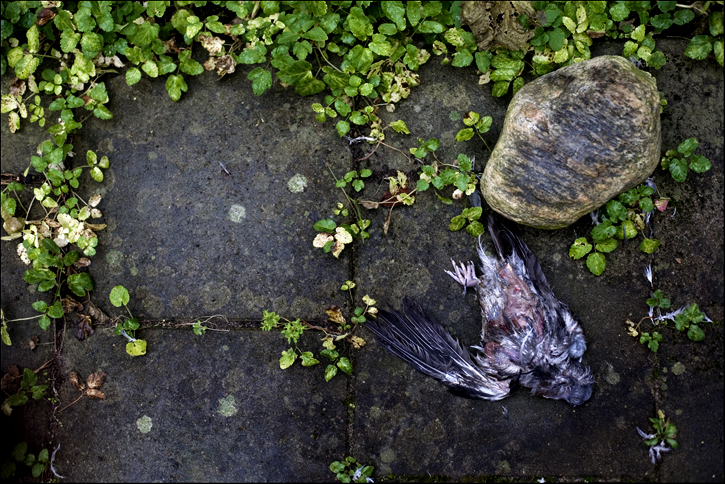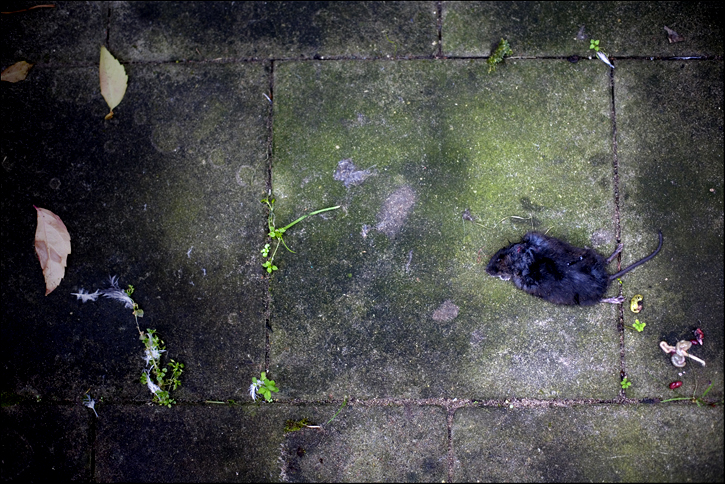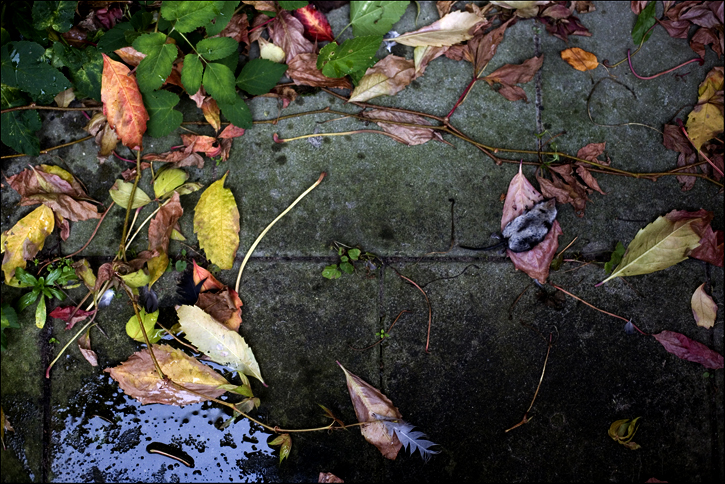 Stor skörd av döda smådjur i vår lilla trädgård. (Duva är kanske inte något smådjur?) Jag ska begrava dem men tycker det är vackert när de förgås (läs ruttnar.) De är mördade av vår söta lilla katt Muchi. Alla katter kan inte, eller vill inte, jaga men nu har vi en duktig jägare igen. Först Duchess, sedan Missy och nu Muchi. Det är väl en slump att det är de minsta honorna som har varit de mest effektiva mördarna?
Jag fann den här dikten av Frances Bellerby. Gud vad jag älskar det engelska språket! Lika mycket som det svenska faktiskt. Engelsk poesi är så fjäderlätt, så svävande och det kan ju svensk poesi också vara men alltid på ett annat vis. Som om varje ord innehåller den kultur det skapats i och så är det väl också.
Läs den långsamt, långsamt. Orden suger in en till platsen, till tiden och ger bilden av att människor i generationer tidigare, magiska människor, gått omkring om höstarna på den här planeten och haft komplicerade och tragiska men underbara liv.
(Något knas med radbrytningen i min blogg. Jag har kursiverat och fetat det ord som börjar ett nytt stycke.)
All Souls' Day
Let's go our old way
by the stream, and kick the leaves
as we always did, to make
the rhythm of breaking waves.
This day draws no breath –
shows no colour anywhere
except for the leaves – in their death
brilliant as never before.
Yellow of Brimstone Butterfly,
brown of Oak Eggar Moth –
you'd say. And I'd be wondering why
a summer never seems lost
if two have been together
witnessing the variousness of light,
and the same two in lustreless November
enter the year's night…
The slow-worm stream – how still!
Above that spider's unguarded door,
look – dull pearls…Time's full,
brimming, can hold no more.
Next moment (we well know,
my darling, you and I)
what the small day cannot hold
must spill into eternity.
So perhaps we should move cat-soft
meanwhile, and leave everything unsaid,
until no shadow of risk can be left
of disturbing the scatheless dead.
Ah, but you were always leaf-light.
And you so seldom talk
as we go. But there at my side
through the bright leaves you walk.
And yet – touch my hand
that I may be quite without fear,
for it seems as if a mist descends,
and the leaves where you walk do not stir.